GRAND FIBERGLASS CO.,LTD is one of the largest producer of mould FRP grating and fiberglass products in China.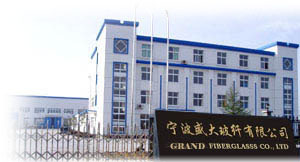 Our company is located in Long Shan industrial zone of Ningbo City which is near to Shanghai . Now we have over 250 staff and our production capacity is 15 FCL20 every month for FRP grating .

Our leading products : different size of FRP mould grating and Pultruded Profile include FRP Angles, Channels, Square Tubes, Cable Trays, Round, Fiberglass Body Kits, fiberglass reinforced products.

We make production in our factory according to USA ABS Quality Assurance (QA) system and ISO9001:2000, our quality was already passed test by SGS U.S. Testing Company Inc . Most of our FRP grating and body kits are exported to more Europe countries and USA and Canada about 30 countries.

If you are interested in any of our products, please don't hesitate to contact us for more details. Supplying high quality items, competitive prices and comprehensive after-sales service, we are looking forward to developing business relationships with companies throughout the world.